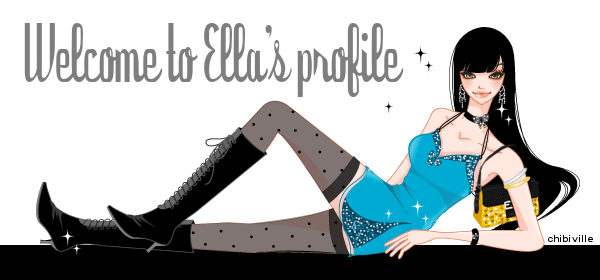 Faithful to GOD and HIS teachings
♥
47 yrs old
♥ Army Wife♥ Mother ♥
US Army (Retired) ~ Served 22 years
♥
Professional Counselor/Marriage and Family
♥ Planner Girl ♥
Motivational Speaker
♥
Fashionista
♥
multi-tasker
♥ dog lover
♥
organizer freak
♥
blessed with the best family and circle of friends who offers her UNCONDITIONAL LOVE
♥ l
oving and devoted to her family and friends
♥
nice
♥
self-suffient
♥
optimistic
♥ n
ever gives up
♥
FIGHTER and SURVIVOR
♥ d
oesn't care about unsolicited comments from other people who don't even know her
♥ l
ives her life to the fullest
♥ h
as a PURE HEART
♥ g
enerous
♥ l
oyal
♥ when hurt, never revengeful, she simply walks out of your life quietly…♥
resourceful
♥
loves long phone conversations
♥ loves TEQUILA ♥ sucker for
girl talks and pillow talks
♥
stubborn at times
♥
argumentative when needed
♥
debater
♥
PATIENT
♥
TRUE BELIEVER
♥
doesn't expect anything from anyone but love and loyalty
♥
TISAY na KIKAY
♥
l
oves dancing in the rain
♥ l
oves completely
♥ t
akes chances
♥
SWEETEST person u'll ever meet
♥
not afraid to express her feelings
♥
loves to laugh her ass off
♥
mysterious
♥ s
leeps on the left side of the bed
♥ h
as 10 pillows on her bed
♥ a
TRUE PERSON who enjoys the beauty and the simplicity of life
♥
U.S. Army ~ served 22 yrs
♥ What do I believe?
I believe today I am the strongest I have ever been.I believe that LIFE is best served when taken in its' simplest form.The only thing that need to guide us is our FAITH.As always, I am constantly driving 100 miles per hour when the SPEEDOMETER of LIFE says 60.But lately, I have made great efforts to sit back, relax, and try to enjoy this ride.WHY?LIFE is all we got.JUST ONE.I am learning to make the most out of the ONE I have been blessed with. I can't tell you exactly where I am going, but I will say that sitting back and realizing all the times I never felt so lost and uncertain, I could always later say, "You see Ella, you made it, and you always do!" I keep my belief in DESTINY and my good karma running and this assures my FAITH in the unknown.
♥ Finding Balance
As a Professional Counselor/Marriage & Family, I believe that you can't have everything and do everything at the same time. Therefore, we must look deeply within and we need to understand our perfect balance. None of us is built to run nonstop. That's why, when you don't give yourself the time and care you need, you will lose your equilibrium and break down. I know that we can't take a recess from life ~ it keeps going. But we can definitely take recesses from feeling trapped anytime. If you take a moment, breathe, and look around and say, "Look what's happening to me!" The incredible drama of life is happening and you are in it! The key to balance is using all of the factors listed above in the picture to connect yourself to the present moment. I always believe that moments of connections are free moments!
♥ More about me....
♥ Love these movies



top gun ♥ twilight movies ♥ confession of a shopaholic ♥ the devil wears prada ♥ princess diaries ♥ legally blonde ♥ 29 dresses ♥ 50 first dates ♥ marley & me ♥ harry potter ♥ something about mary ♥ wedding planner ♥ monster in law ♥ band of brothers ♥ maid in manhattan ♥ audrey hepburn movies ♥ the others ♥ the patriot ♥ bride wars ♥ blackhawk down ♥ pretty woman ♥ taken ♥ the lord of the rings ♥ ironman ♥ bad boys ♥ beaches ♥ stepmom ♥ enough ♥ 13 going on 30 ♥ transformers

♥ filipino movies ♥

Sex in the City ♥ CSI ♥ Project Runway ♥ America's Next Top Model ♥ Gossip Girl ♥ Desperate Housewives ♥ Friends ♥ Cooking shows with Ina Garten and Giada de Laurentis ♥ Breaking Bad ♥ Criminal Minds
♥ Hmmm…some of my addictions…so what?
CHANEL
♥
fashion
♥
planners ♥ journaling ♥ shopping
♥
pink ♥ designer shoes and bags
♥ books
♥
Starbucks ♥
spa ♥ CHOCOLATES ♥ perfume ♥ cross stitch ♥ bubble bath ♥ victoria secret ♥ iphone
♥
butterflies ♥ facial
♥ camera
♥
text ♥ hello kitty ♥ aerobics, yoga and pilates ♥ tulips ♥
♥ What keeps me busy?
bible and family journaling ♥ planning sessions ♥ volunteering ♥ reading ♥ cooking ♥ baking ♥ vege-ing ♥ chatting ♥ google-ing ♥ blogging ♥ twittering ♥ facebooking ♥ cross-stitching ♥ instagramming
♥ Favorite Books
all books written by sophie kinsella ♥ elizabeth gilbert ♥ emily griffin ♥ jennifer weiner ♥ lolly winston ♥ emma mclaughin ♥ lauren weisberger ♥ candace bushnell ♥ jane green ♥ marian reyes ♥ danielle steele ♥ mary hollingsworth ♥ steven covey ♥